Hi all -
How was your year? Since my life has been revolving around my kid, I'll start there. I have a 22 month old girl, barely able to form sentences, showing off her Italian side by screaming "more pasta" during the meal.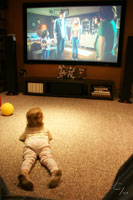 Funnier story is during my birthday dinner a few weeks back. Paloma likes to rip her bib off (ala Hulk) when she's done with the meal and says "down" repeatedly. That time we said ,"But we're not done. We still have cake and ice cream." There was a slight pause while the wheels were turing...then she said, "ice cream?" and grabbed the bib and tried to put it back on.

Lastly, she actually sat through her first movie last night, and it wasn't a Disney movie. It was Aliens in the Attic. She wasn't scared either. Sure I've had Toy Story and the like going on in the background before, but she never paid attention to it. She REALLY paid attention to this one...the whole thing. It was so odd, I had to photograph it to prove it. Click on the image for a larger version.


I've had a few days off, which allowed me to update my site with more than a few goodies that span from not just this year, but from last fall...I just finally get to show you.

First, my reel had been updated to include a few of the following.
Aliens in the Attic

. This feature was just released on blu-ray/DVD. It's a great little family film. Just ask Paloma. Don't know why it didn't do well. I did wire and rig removal on a good number of shots.

Schoolhouse Rock!: Earth. The DVD was release back in March (shameless plug - buy it here), but I worked on this last year. I put together a medley of the shorts I worked on.
Ford Fusion: "We Speak". A commercial campaign I did roto and clean-up on in the spring. It's still airing every now and then.
Histoire. A branding of a French history channel, so none you may ever see it. The vast majority of the design involves particle animations that I handled.

Spongebob's Truth or Square. For the promo of the Spongebob TV movie, I had to track in objects in a real underwater environment. The final shots were treated with footage and effects, so I have the clean elements here. It may look unfinished, but it was all that was necessary on the shots...I only say that because I wanted to push it farther. The matchmoves are solid on all of them though. The final promo can be found on YouTube.


Happy New Year. Enjoy...

- Luciano